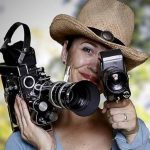 Carrie Specht, La Sierra University assistant professor of film and television arts has more than 16 years of experience in Hollywood. She has spent most of her career as a union 2nd assistant director for films and television, and has created numerous short films which have won awards at major festivals including Sundance and the New York Film Festival.
________________________________________________________________________________
It's odd to me to have someone ask for a list of classic films that still hold relevant themes for today. For me, the answer is that all old movies have relevant themes for today.  No matter what the subject may be, today's concerns are strikingly similar to the concerns of someone who lived 20, 40, or 100 years ago. Whether it's by allegory, analogy or direct connection it is the rare film that does not retain its relevance as time goes by.  The following are five films that I find particularly relevant at this time of my life.
• A Face in the Crowd:  This 1957 movie charts the rise of a raucous Arkansas drifter named Lonesome Rhodes.  The down and out man starts out as an itinerant Ozark guitar picker discovered in a backcountry jail who charms his way into becoming a local media rabble-rouser, then an overnight TV sensation, and eventually a political kingmaker.  Everyone falls under his spell of down-home witticisms and unfiltered talk, but as he becomes drunk with fame and power, he comes closer and closer to being exposed as the fraud he has become.  The film stands as a political fable, warning all of us to look beyond the packaging of what's presented to examine just who has done the packaging and who pulls the strings. Particular attention should be paid to the performances of the stellar cast, led by Andy Griffith and Walter Matthau – they're unlike anything you've ever seen them do before.  This film will leave you thinking hard about the nature of politics.
• In the Heat of the Night: An African American police detective is asked to investigate a murder in a racially hostile 1967 southern town.  Detective Virgil Tibbs (Sidney Poitier) is caught up in the racial tension of the American South when, due to assumptions and misunderstanding, he is initially arrested for the murder of a prominent businessman.  The confusion is soon resolved but when local police chief Gillespie (Rod Steiger in his Oscar-winning performance) learns that Tibbs is the Philadelphia PD's number one homicide expert, he reluctantly asks for his assistance.  Tibbs' life is clearly in danger but he perseveres in a highly charged and racially explosive environment until the killer is found.  In the Heat of the Night received the Academy Award for Best Picture of 1967 for its daring portrayal of politically charged issues, and yet the subject matter is as fresh today as it was fifty years ago.  You will love this film!
• The Man Who Shot Liberty Valance:  At first glance this film may seem like just another John Wayne western, or even a Jimmy Stewart tale of battling injustice.  But it's much deeper than that.  This simple tale of a man becoming famous for shooting a dangerous outlaw actually examines the nature of truth versus legend through the eyes of a prominent senator who returns home to a small western town for the funeral of a long-forgotten townsman.  Badgered for a story, the senator recounts the events behind it all, including his encounters as a young man with ruffian, Liberty Valance, who terrorized the town.  When he destroyed the local newspaper office and attacked the editor, the senator called him out, though the conclusion is not quite as straightforward as legend would have it.  So once the truth is finally revealed, will the record be made straight or will the more exciting account of the legend still stand?  Will "fake news" and "alternative facts" prevail over reality?  The answer is found in the belief of what the media believes people really want.
• Casablanca:  In Casablanca, Morocco, December 1941, a cynical American expatriate, Rick meets former lover, Ilsa.  The fact that they're both political exiles and it's WWII in Europe, unforeseen complications naturally ensue.  Rick (played by the rough and rumpled Humphrey Bogart) a nightclub owner who couldn't care less about politics inadvertently comes into the possession of two valuable letters of transit.  Political strong arm German Major Strasser and the ineffective French police Captain Renault want the letters regardless of the means needed to get them. Meanwhile, Czechoslovakian underground leader and political agitator Victor Laszlo challenges the dominance of the Nazi leaders.  Rick has no interest in any of the events surrounding him until to his surprise; Lazslo arrives with Ilsa, his one-time love who ran out on him in Paris.  Stirred by his heart and his moral conscience, Rick realizes he must get off the fence of indifference to stand up for the woman he loves as well as what he believes to be right in the world.  Stated like this it's obvious that the film examines the dangers of remaining indifferent during turbulent times.  However, the entertainment quotient will ensure that you never feel lectured and remain thoroughly entertained from beginning to end.
• The Apartment:  Long before Billy Crystal's Harry ever met Meg Ryan's Sally, and before Ryan went sleepless with Tom Hanks in Seattle, Shirley MacLaine was the effervescent sweetheart of the day.  With her quiet charm, well-placed dimples, and perky up-turned nose, MacLaine effortlessly attracted the admiration and affections of a young and adorable Jack Lemmon in 1960's Best Picture of the Year.  Relying heavily on a plot that is part formulaic, part farce, director Billy Wilder managed to make the yearnings of a junior executive for the boss's mistress utterly wholesome and achingly sweet.  Of course the actors helped a lot too.  With both leads just reaching the prime of their talents, Wilder had the perfect cast for a charmingly risqué story of Boy meets Girl.  MacLaine was at the time still in the blush of her beguiling pixie period, and Lemmon was still portraying the lovable regular guy.  Here, they compliment each other so well.  Not just a piece of escapist fluff, the elements combine to create a completely satisfying, brilliantly funny, unequalled whole. The Apartment has depth and meaning that reaches across the changing cinematic styles of passing generations, attaining a staying power that will continue to charm and entertain viewing after viewing, year after year.