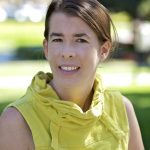 Sari Fordham, La Sierra University associate professor of English and lover of books, enjoys offering personalized book recommendations to her students. Here she provides a list of five prize-winning books for your summer literary escape, including the work of an author who will visit La Sierra this fall.
Dear Committee Members by Julie Schumacher, Thurber Prize for American Humor (2015): Dear Committee Members is a novel for anyone who has written a letter of recommendation (or asked for one). This epistolary novel is set on a college campus and will, indeed, make you laugh out loud. Julie Schumacher is the first woman to win the Thurber Prize for American Humor. She will be coming to La Sierra University on October 26, 2017 and reading from her prize-winning novel.
Between the World and Me by Ta-Nehisi, National Book Award winner (2015): "Son, Last Sunday the host of a popular news show asked me what it meant to lose my body," begins Ta-Nehisi's book long letter to his son. Between the World and Me is also epistolary in nature and is a response to his son's growing awareness of what it means to be a black man in America. Toni Morrison called this prize-winning book "required reading."  
The God of Small Things by Arundhati Roy, Man Booker Prize (1997): While the Man Booker Prize is less widely known (in the States) than the Pulitzer, it is the prize that writers "most covet" as Graham Swift once stated.  Arundhati Roy won this major award with her lush, debut novel. The God of Small Things is set in India and follows twins Estha and Rahel before and after a life-changing event.
A Thousand Acres by Jane Smiley, Pulitzer Prize winner (1992): Jane Smiley imagines the themes of King Lear playing out on a pig farm in Iowa. Once you read the novel, you won't be able to read (or view) the play without thinking about Larry Cook, the novel's antagonist.
The Joy Luck Club by Amy Tan, California Book Award (1989): Amy Tan's witty, poignant novel chronicle's what it means to be a daughter, what it means to be a mother and how each can know and not know the other. If you've only seen the film, do yourself a favor and read the novel this summer.