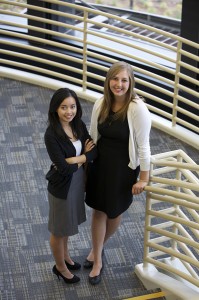 Two La Sierra University first-year students from California have been named 2013 Presidential Scholarship recipients. Nicqelle Godfrey, from Loomis, and Josephine Simorangkir, from Loma Linda, received the awards because of their outstanding high school grade point average and their proven dedication to improving the world around them.
The scholarship covers tuition and fees at La Sierra for one year and is renewable for up to four years.
A graduate of Pine Hills Adventist Academy in Auburn, California, Nicqelle is double majoring in history and English literature. She plans to go to law school after finishing at La Sierra.
In her scholarship essay, Nicqelle shared her lifelong interest in helping people suffering from cancer. "When I was very little, a close friend was diagnosed with cancer," she recalled. "Once he lost his hair, I was shocked. I remember wearing a wristband in my friend's honor.
"One day my mom asked if I had ever thought of donating my hair to help make wigs for cancer patients. I started doing that in second grade. In junior high I was able to help support the activities of the cancer center at St. Helena Hospital. I also started a program called 'Heaps of Hair,' asking people to donate old wigs, cleaning them up, and donating them to the hospital to give to cancer patients," she said.
La Sierra University was the only place Josephine Simorangkir considered for her education after Loma Linda Academy. The outstanding music department and strong science program were factors in her decision. She is majoring in neuroscience and will be a member of the La Sierra University Saxophone Quartet.
"I really like the environment here," Josephine said. "I like that the school is kind of small, because it will give me opportunities to branch out and make more friends."
She plans to attend medical school, and she is interested in doing medical research, possibly earning a combined MD-PhD degree. She hopes someday to become part of Doctors Without Borders, an international medical humanitarian organization.
Josephine's essay outlined her efforts to better her community while attending Loma Linda Academy. "In my junior year I started a club called MAD—Making a Difference," she said. "We tried to help other community organizations. We did a Christmas party for underprivileged kids with one organization. We also helped Loma Linda's PossAbilities program with their annual race."
David Lofthouse, La Sierra's vice president for enrollment services, says that the candidates who make the strongest impression on the selection committee for the Presidential Scholarship are those who show personal initiative. "When we see a student who recognizes a problem and goes about the business of solving it without relying on an existing organization, like these did, we are especially impressed."
"When we see a student who recognizes a problem and goes about the business of solving it without relying on an existing organization, like these did, we are especially impressed."