They pour their professional lives into their student's success for four years. Then, sheepskin in hand, their students leave them behind. Here's how some members of the La Sierra faculty look at saying goodbye to their students.
JEFF DUPÉE
PROFESSOR OF HISTORY
COLLEGE OF ARTS AND SCIENCES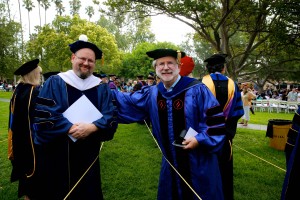 In a strange way, I find graduation like an out-of-body experience. It begins with that long, sloping line snaking down the hill towards the podium. As graduates, most of whom I've never taught, joyously stream past beaming faculty, hugging and high-fiving, it strikes me that there are so many experiences and bonds unknown to me that go on every day in the life of the university. It makes me see the institution in the round, expanded from my small corner of the campus where I teach and interact with students. The ceremony reinforces that sentiment. Afterwards on the lawns where people circulate, chat, take pictures, and reminisce, it is the families of the graduates that make the biggest impression on me. I know that there have been many years of commitment and sacrifice to arrive at this day—the day that "my child" graduates from college. In these moments, I am most humbled and grateful to have played a small part in that long march towards its fulfillment.
---
S. ERIC ANDERSON
PROFESSOR OF MANAGEMENT AND ECONOMICS,
TOM AND VI ZAPARA SCHOOL OF BUSINESS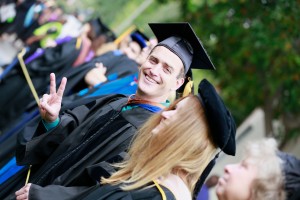 Do graduations make me sad? Will I miss the students? The answer to both questions is no, not really. Graduations are often the beginning of student-teacher relationships and not the end. There is hardly a week that goes by where a past student doesn't reconnect, and this time they are really listening to what you have to say. I think back, and one of the most gratifying experiences for a professor has been when a student stops by my office and announces that they just received a great job offer. That first real job offer is one of the most memorable events that an individual will experience in their lifetime. It is fun to share in their excitement and observe their continued success."
---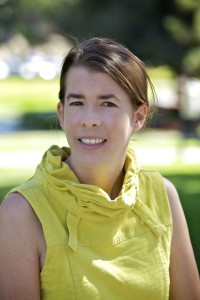 SARI FORDHAM
ASSISTANT PROFESSOR OF ENGLISH
COLLEGE OF ARTS AND SCIENCES
I love graduations at La Sierra: the decorated mortarboards, the leis, the parents turned paparazzi, the faculty taking selfies with students, and that beautiful pride that shines in the eyes of my students. It's no secret that I'm a tough grader. I'm tough because writing is hard and because I have infinite respect for what my students can accomplish. La Sierra students are awesome. And graduation is a party where I get to stand back and applaud them and all that they have done and all that the future holds. At graduation, I'm not yet thinking about saying good-bye. I'm just taking in all their accomplishments and what I feel is so, so proud of my students.
---
PAUL MALLERY
PROFESSOR OF PSYCHOLOGY
COLLEGE OF ARTS AND SCIENCES
Graduation always makes me ambivalent. I'm happy for the students' graduation, but know that some of them I probably won't see again for a long time. It's a 'Congratulations' and 'Farewell' party all combined.
---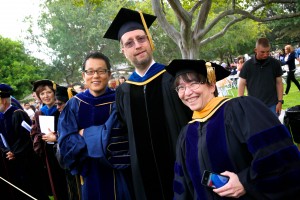 SAM MCBRIDE
PROFESSOR OF ENGLISH AND ASSOCIATE DEAN,
COLLEGE OF ARTS AND SCIENCES
My primary thoughts on the Sunday morning of commencement: Wow, this is too early for a Sunday morning! What a relief! My students made it. Thank goodness we do this early, before it gets hot. I feel sad that I won't see many of these dear students again, yet I have no profound words of wisdom to share at this moment, only clichés.
---
DORA CLARKE-PINE
ASSOCIATE PROFESSOR OF SCHOOL PSYCHOLOGY
AND COUNSELING, SCHOOL OF EDUCATION
It is always bittersweet at graduation. With my open-door policy, students come in all of the time, not just to discuss course-related issues, but often more because they know I will listen to whatever they are going through in their lives. Somewhere along the way, I have earned the right to be their mentor in addition to being their professor. Sometimes they share joys. Sometimes they share sorrows and tragedies almost unimaginable. Yet they know I genuinely care and will be there for them. When they stop by a year or two later just to say 'hi', you know you made a difference in their lives. You know it initially when you see the lights go on in class and they 'get' what they are learning. But when they come back to say 'hi', you know their lives were touched in ways that went beyond the learning process. It is what feeds your own soul in a world where sometimes that same type of mentoring does not occur in the professional relationships we have in our own lives because of the politics or the 'It's just a job mentality.' In my mind, teaching is not just a job. It is a life-changing process.