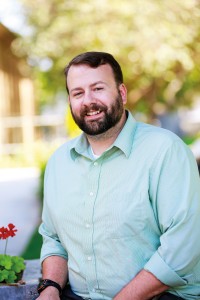 Is the ubiquitous bluegill fish, a frequent fisherman's catch, a single species that adapts its body shape and physiology to its environment in lakes and ponds?
Lloyd Trueblood, a biology professor and physiologist at La Sierra University, together with two East Coast researchers, received a $650,000 grant in July from the National Science Foundation to investigate this question. La Sierra's portion, $163,000, will be used to cover equipment costs, a stipend for a student researcher, and travel costs for Trueblood and students to attend conferences.
One of Trueblood's first purchases with the grant funds was a Shimadzu UV-1800 research-grade spectrophotometer that will shine light through enzyme samples. The greater the level of pigment change that appears as the light passes through, the more enzyme activity is taking place. "It allows us to measure the amount of aerobic and anaerobic enzyme activity that exists in the muscles," said Trueblood, "thereby quantifying the amount of energy that could be produced for muscle activity."
The bluegill, a type of sunfish, lives in lakes, ponds, streams, and rivers around the United States. Some bluegill live among weeds and rocks at the bottom of bodies of water, while others spend their lives swimming higher up in the water column. Those that live up in the open water column tend to be longer and narrower in shape, while their counterparts at the bottom have developed a flatter appearance and more robust pectoral muscles.
"This research can inform how much change and what type of change occurs over a timeframe, and how much of an impact the environment has on body form and function," Trueblood said.
Trueblood is collaborating with scientists Shannon Gerry at Fairfield University in Connecticut and David Ellerby at Wellesley College in Massachusetts. Gerry and Ellerby are collecting fish from lakes in and around the Wellesley College campus and later this year will ship muscle tissue samples frozen in dry ice to Trueblood for analysis in his lab.