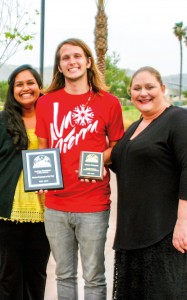 La Sierra University senior Andrew Pedersen had no idea what was coming until he heard President Randal Wisbey announce his name during a campus assembly on April 17 as winner of both state and regional Student Employee of the Year awards. The audience of more than 1,000 students erupted in applause.
"I was just completely blown away," Pedersen said later that day during an afternoon reception. Adding to the jaw-dropping surprise, family members whom he had not expected to see until his June graduation walked on stage to greet him.
Pedersen, a senior religious studies/pre-nursing major and La Sierra student missions director, received the Student Employee of the Year award from the 13-state Western Association of Student Employment Administrators (WASEA). The association is a nonprofit organization that represents college and university student employment professionals in student financial services, career services, human resources, and stand-alone student employment offices.
It is the first time a student from La Sierra University has landed the prestigious prize that involves the selection of a winner from a pool of about 500 students. To be considered for the regional award, the student must first win employee of the year recognition at the university and
state level.
"This particular student exemplifies La Sierra's mission 'To Seek, To Know and To Serve.' His community service involvement sets him apart from everyone else who was nominated, at the university, state, and regional level," said Desiree Noah, senior human resources analyst at La Sierra and board president of the WASEA.
She added that Pedersen's work with Project: Syria, a yearlong campaign to help Syrian refugees through ADRA Jordan, was instrumental in the judges' decision.
Linda Biswas, assistant chaplain for outreach and missions, nominated Andrew for Student Employee of the Year.
"Andrew has a drive to help others that is unparalleled. He has played a role in nearly every entity of spiritual and campus life—Sabbath School, dorm worships, Rendezvous, outreach, short-term mission trips, university worship, REVO, First Service, assembly, SALSU events. You name the campus event, Andrew has been there," Biswas said.
"You can find him helping a student with a mechanical problem at 2 a.m. on the side of the freeway, or out on a quest to bring food to a student that has not yet eaten that day. He bakes for his freshmen family group members and mentors those that are searching for God. He'll pray for a student who is mourning a loss as sure as he would give his last dollar for a person in need," she said.
"This is the strength of character and passion that Andrew has put into his role as student director of missions over the past three years as well," said Biswas. "A genuine and humble servant through and through, his actions and deeds only help this campus better understand the love that Jesus has for each one of us."