With laughter and shouts of frustration, two teams of La Sierra University freshmen in single file columns struggled to slide forward on parallel wooden beams along a slippery forest floor while holding ropes attached to the boards."Let's go, team Jamaica, let's go. Two more steps," called out freshman Maya Hanna, trying to encourage a team and their leader after her crew was first to slide across a finish line.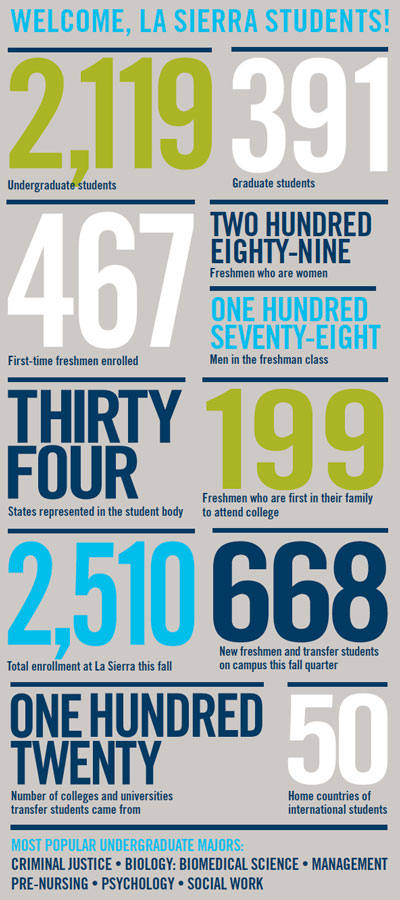 After the race, Hanna and her fellow freshmen gathered around camp activity leader Daniel Chapman and discussed what they learned about teamwork and leadership. "You have to agree on the goals and how to get there," noted Hanna.
Hanna was among 394 La Sierra freshmen who participated in the IGNITE orientation program at Pine Summit Christian Camp in Big Bear Lake. The students, under the guidance of 97 student leaders and 19 La Sierra staff members, spent three September days getting to know each other and learning the importance of cooperation, communication, and making wise choices.
The IGNITE orientation has usually been held at La Sierra. However, with the influx of new students, the event outgrew campus facilities and the program was moved to Pine Summit.
For Isaac Deese, an accounting major from Long Beach, the trip to Big Bear was his first experience in the great outdoors. "Just getting acquainted with the freshman class has been a great experience," Deese said. "I liked it when we were in chapel and we had the family environment thing going."
IGNITE helps students form bonds with fellow students and mentors, says Yami Bazan, vice president for student life. This year's program began with the traditional Parent Blessing service, held on September 23.