For most parents, letting go of their children as they start college is a challenging task. For this reason, La Sierra University's freshman IGNITE program aims to orient both students and parents to the campus and assure parents that their children are in good hands. The annual IGNITE Parent Blessing service, held this year on September 18, is a key piece of that process.
In her message at the service, La Sierra University Church Senior Pastor Chris Oberg likened La Sierra to a sanctuary of protection. "We realize we're obligated to one another," she said, and noted that faculty and mentors will speak about the new students as family. "You will hear this word a lot from this moment forward. We're in this together," she said.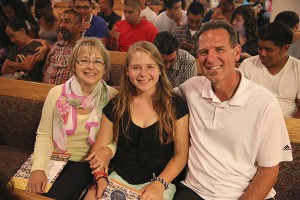 "As a mom, it's very nerve-wracking," said Rebecca Stiff, whose daughter, Tessa Rae Stiff, is entering the biochemistry and math programs. "But La Sierra has made us feel very welcome," she said.
The Schaffner family, who arrived from San Diego, watched their eldest daughter, Brenda Schaffner, graduate from La Sierra last June. This fall they accompanied their youngest daughter, Amy, to the Parent Blessing service as she began her academic journey at the university. Several members of Bud Schaffner's family have attended La Sierra, including his parents, sisters, and nephews. Commented Schaffner's wife, Debbie, "It feels so comfortable to send our youngest daughter here. It seems warm and friendly."
Amy Schaffner is enrolled in La Sierra's pre-nursing program. "I'm really looking forward to the spiritual aspect on this campus," she said. "I've heard a lot of good things about Pastor Sam."
The three-day freshman IGNITE program that led up to the start of school included iServe, during which the freshmen and their 75 "family group" leaders helped nonprofit organizations around Riverside. During IGNITE they also learned tips from older students on how to succeed in college, had a chance to join student clubs and associations on campus, and had opportunities to make new friends.
Watch the Ignite 2013 video here!