There were loud cheers and plenty
of tears as La Sierra University
graduated 365 new alumni on
Sunday, June 15, in the traditional
ceremony on Founder's Green.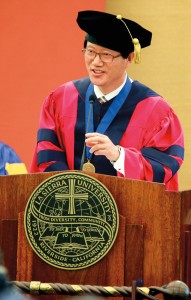 Before introducing commencement speaker Sang Lae Kim, president of Sahmyook University in South Korea, La Sierra President Randal Wisbey presented four top university recognitions. The Outstanding Undergraduate Student award went to Jason Anthony, an international student from Thailand who earned a dual bachelor's degree in management and music. Marsha Serafin, registrar at San Diego Academy, was named the Oustanding Graduate Student. Dr. Jere Fox, associate professor of law and management in the Tom and Vi Zapara School of Business, received the Distinguished Teaching Award.

Audrey Shaffer, who has been a volunteer member of archaeological teams for 30 dig seasons, was awarded an honorary Doctor of Humanitarian Service degree. A registered health information administrator and consultant, Shaffer is also a key volunteer in the Center for Near Eastern Archaeology at La Sierra University.
While every student's path to graduation is arduous, for Caitlin Hutchinson the journey was made all the more difficult by a rare medical condition. In a story titled "inSight" in this magazine's Spring 2012 issue, Caitlin shared her battle with reflexive sympathetic dystrophy (RSD). She was completely blind during her freshman year, regaining only partial eyesight since. Caitlin walked across the graduation stage on June 15 with dark glasses and a beaming smile. She earned not only a bachelor's degree in biology—she also received the College of Arts and Sciences Dean's Award. Her scientific research resulted in three posters at conferences, and she led the campus's Phi Omega Chapter of Tri-Beta, the national biology honor society. In addition, she organized an annual canned food drive to benefit the Helping Hands Pantry in San Bernardino, and this year started a "wish basket" drive for the Ronald McDonald House in Loma Linda.
Caitlin credits her success to "a lot of good Samaritans." Biology professors Natasha Dean, Eugene Joseph, and John Perumal all worked closely with her. The Office of Disability Services set her up with a campus guide, audio textbooks, a screen reader laptop computer, and arrangements to take tests orally. She used software that converts text to speech, and for her classes, she memorized what she heard and imagined graphs, flow charts, and other illustrations.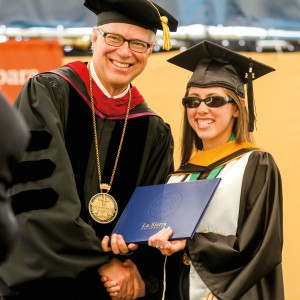 Caitlin is now taking post-baccalaureate classes and plans to continue in the field of biology. If her eyesight improves sufficiently, she dreams of becoming a surgeon. Otherwise, she'll work to earn  a Ph.D in biology.
Either way, she'll continue to live out the text of Scripture she once gave to campus chaplain Sam Leonor in braille, a verse that has sustained her all the way to graduation and beyond: "We walk by faith, not by sight."