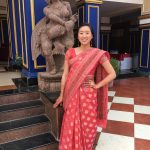 Juliette Lee is a senior at La Sierra University majoring in English: Writing and pursuing her teaching credentials. She is from San Diego but her love of traveling has encouraged her to pursue a career in education in the hopes of teaching English abroad. 
Summer is every college student's favorite time of year, and we usually have high expectations. Many of us itch to go somewhere exciting and insta-worthy. More often than not, the only thing stopping us is money. But fear not. Here are some of my favorite budget-friendly destinations and travel ideas.
• Road trip
This is probably the clichéd solution to the ever classic I-have-nowhere-to-go-but-I-want-to-go-somewhere dilemma, but I can't help but mention it. The more people you fit into the car, the cheaper the trip gets for everyone. Plus, the level of fun increases exponentially. There's an endless number of routes to take, whether you decide to drive along PCH 1, head up to Canada while hitting all the major cities along the way, or park hop through the vast number of national parks California has to offer.
• Go Camping
Speaking of national parks, there are 28 in California according to the National Park Service. Whether you hit one of them or all of them, the only thing you'll be paying for is the gas needed to get there and back, the park entrance fee, and the cost of food. If you don't have gear, borrow from a friend, or, better yet, invite said friend along! You can hike, swim, or just set up a hammock and lounge while breathing in crisp mountain air.
• Central & South America
Often times we mistake international vacations for expensive vacations, but being so close to Central and South America means that airfare is about the same as, if not cheaper than, domestic flights. The best part is that once you get there, the cost of living—lodging, food, and transportation—is significantly cheaper than it is here in the States. That means a vacation to Peru could be cheaper than going to Seattle or Chicago. My personal favorites are Costa Rica, Panama, and Colombia, especially if you're looking to get a summer tan on a beautiful white sand beach. And if you're looking for cheap places to stay, don't be scared to check out budget hostels that are often less than $10 a night for a dorm room. You'll meet tons of new people traveling just like you. It'll feel just like college, but without the studying.
• Everywhere
This might not seem helpful, but I promise you, it is. One of my favorite websites for finding cheap flights is www.skyscanner.com, and this is because you don't have to search with a specific destination in mind. If you simply have an itch to travel, either domestically or internationally, search for a flight like you normally would, but put "everywhere" as your destination. If you do this, Skyscanner will search for cheap flights on the dates that you entered and give you a list of destinations sorted by price. Once you have some travel inspiration and a sense of which destinations are cheap on your available dates, you can search more specifically on different websites to see if you can find an even cheaper price for the same place. The world really is at your fingertips!