La Sierra University's public relations department launched a social media campaign on January 28th inviting your thoughts and ideas on Adventist education. Here is a great comment we received from Rathyna Gomer:
"How do we improve Adventist Education? Simple. We just take a few of our Church's fundamentals, such as humility, love, and freedom. What could we not achieve with tolerant, open minds and hearts? We should say, "We don't know everything, but we are willing to critically explore all issues and be loving and compassionate in the process." Who wouldn't want to learn in that type of setting?"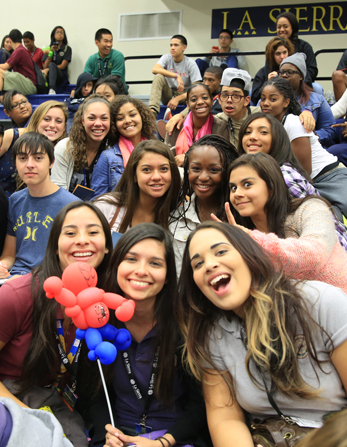 On Twitter, include @lasierranews in tweeted comments and links, or send comments to whatdoyouthink@lasierra.edu. Please keep your comments brief! (La Sierra University reserves the right to edit contributed viewpoints for brevity and content.)
La Sierra University has long been dedicated to the advancement of Seventh-day Adventist education. Its Center for Research on K-12 Adventist Education, housed in the School of Education, oversees the groundbreaking CognitiveGenesis study which proves the benefits of an Adventist education. The center's director, Dr. Elissa Kido, discusses research findings in the upcoming PBS documentary, "The Blueprint: The Story of Adventist Education" which will air this spring.
Additionally, the myriad issues confronting Adventist higher education were discussed in a book published in October 2012 and co-edited by La Sierra University Provost Steve Pawluk and Gordon Bietz, president of Southern Adventist University. The book, titled "Seventh-day Adventist Higher Education in North America," includes chapters by Pawluk, La Sierra University President Randal Wisbey, Bietz, Andrews University President Niels-Erik Andreasen and other leaders of Adventist colleges and universities. It discusses the purpose and future of Adventist higher education from various points of view.