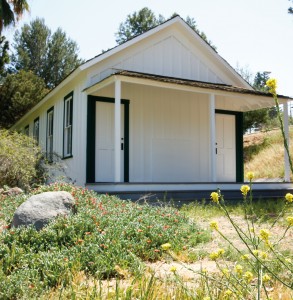 It's like a scene from Little House on the Prairie—three short rows of old-fashioned wooden school desks line a wooden floor. Sunlight streams through long narrow windows. A black chalkboard stretches across the front of the one-room schoolhouse.
Established in 1898, the historic San Pasqual schoolhouse situated on La Sierra University's sloping upper campus dates to the early days of Seventh-day Adventist education.
"The school was started because my great-grandfather wanted his children to attend an Adventist school. My grandfather, Enos Potts, was one of the children who first attended the school in that schoolhouse," said Ginger Ketting-Weller, dean of La Sierra's School of Education.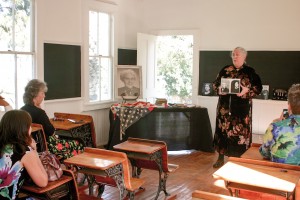 On May 17, the schoolhouse was used once again for educational purposes, this time as a window into the church's educational origins through the characterization of Martha Byington, the first teacher of a Sabbath-keeping Adventist school. Historical interpreter Dr. Sylvia Byington Nosworthy, who is Martha's great-great niece, portrayed Martha Byington in three half-hour presentations. Nosworthy portrayed the teacher's life experiences, including her friendship and interactions with the family of James and Ellen White, key founders of the Seventh-day Adventist denomination.
Martha Byington lived to the age of 103. Just before she died she wrote her last article for the Adventist church's flagship publication, the Adventist Review. Her articles over the years were full of hope and frequently made the front page of the magazine.