Jeff Francis (att '72-75) waits for us at the entrance to the La Sierra University dining commons on a hot summer afternoon holding a huge, hard-sided artist's portfolio case. Like his large-format photography equipment, it is heavy, all the better to protect the images within.
We sit at a table by a window, where the natural light can flood the prints he has brought along to show us. The images are so fine in detail, the color so rich, that we gasp almost involuntarily. "Look at the range of colors!" exclaims Natan Vigna, La Sierra's director of marketing and campus photographer.
"That looks like a window into heaven!" says another observer.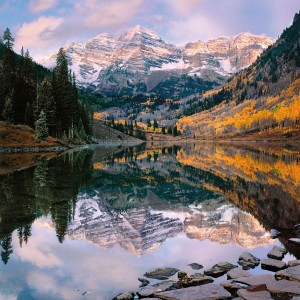 We point out Jeff's photograph of a perfect line of aspen trees in fall that hangs on the wall inside the dining commons. "There's only one thing wrong with that picture," says provost Steve Pawluk, whose student days at La Sierra overlapped with Jeff's. "When I look at it, I don't want to be here in a suit!"
Jeff Francis grew up within walking distance of the university campus, and he followed his father and two of his brothers into dentistry. He's been in practice in Riverside for 35 years and, while he sees an artistic side to dentistry, he admits that he's "more of an artist than a dentist. It's what I think about most of the time, what I like to do best."
"To me, everything is about creation and God. There's nothing like being out in nature. That's when I'm closest to God."
He doesn't remember what first lured him to pick up a camera and start shooting. He experimented with a four-by-five Speed Graphic at La Sierra Academy during high school and says his early attempts "came out pretty bad." But he has never forgotten the first time when, in the darkroom of a friendly photographer, he saw a piece of white paper turning into a print right before his eyes.
It was Ansel Adams, though, that really lit Jeff's artistic fire. On a trip to the Pasadena Art Museum (now known as the Norton Simon) during high school, he was transfixed by the great photographer's images. It was the first time he had seen in person original large-print photographs made from eight-by-ten-inch negatives, and "it was just beautiful," he recalls.
During college, Jeff explored some of his varied interests while studying enough to get into dental school. He took two years of Greek with Madalyn Haldeman, who tried to convince him to become a pastor. He learned in two quarters of drawing that he wasn't very good at it.
He was, however, a champion water-skier. Three or four days a week he and friends got up before sunrise to get a couple of runs in at the Canyon Lake slalom course before sliding into General Chemistry with Ivan Holmes at 10 a.m. The summer before Jeff started at Loma Linda's School of Dentistry, he was ranked number three among non-professional slalom water-skiers in the entire western United States.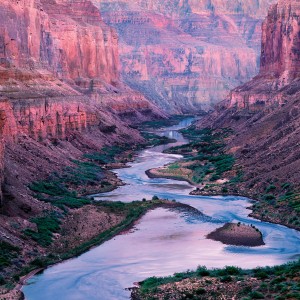 Near the end of dental school, Jeff began going to Monument Valley, Utah, to provide care at the Adventist dental clinic. He bought his first four-by-five view camera and started getting serious about fine-art quality landscape photography on the trips. He loved color, and at the time, the only way to get truly great color prints was a difficult process known as dye transfer. "I did a lot of research about it," he says, "built a darkroom, and started teaching myself."
By day Jeff practiced dentistry. By night, he painstakingly made color separation negatives from his color transparencies, including the color correction and highlight contrast masks necessary for quality color. These were then enlarged onto sheets of special matrix film that, after processing and rinsing, yielded hardened gelatin relief images on the film. He soaked them in yellow, magenta, and cyan dyes and applied them one at a time to a special wet photographic paper that locked in the dyes and created a beautiful photographic print.
"With dye transfer, you'd spend a week before you got your first print. If it was wrong, too bad. You had to start over."
Over time Jeff perfected not only the dye transfer process, but the art of composing photographs so fine that he had gallery representation, sold images to Arizona Highways magazine, and showed in the Laguna Art Festival. Four weeks a year he photographed in his favorite spots—Yosemite in spring, Zion National Park in November, along with Monument Valley, Death Valley, Grand Canyon, Canyonlands, and the slot canyons of Utah. Occasionally he went east to New England, the Great Smokey Mountains, and the Blue Ridge Parkway.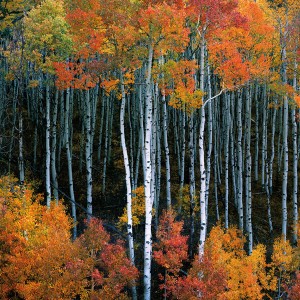 Then came the digital age. Suddenly, lots of photographers could produce excellent quality color images in abundance, and the formerly rather exclusive world of color landscape photography became crowded. "I was trying to compete with full-time professional photographers," Jeff says. "I got my foot in the door, but never got to the point of being famous and able to charge a lot for my work."
Someday Jeff, too, will change to a digital format, but he is holding out for the day when its quality reaches that of the large format cameras he's mastered at something less than the current $40,000 price tag. He's got enough of his favorite film stockpiled—it is no longer manufactured—to last another two or three years
By then he expects there to be 50 megapixel cameras at a reasonable price, capable of producing the quality he insists upon.
In the meantime, he keeps learning, sometimes at the plein air painting festivals he and his artist wife, Betty, enjoy attending. "Traditional artists know a lot about composition that photographers can learn from," he says.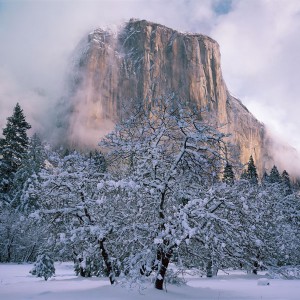 Jeff has always enjoyed an artist's solitude. He finds spirituality in his work.
"To me, everything is about creation and God. There's nothing like being out in nature. That's when I'm closest to God."
A perfect day is getting up before sunrise and photographing something he didn't expect to find. "That usually turns out to be your best picture," he says.
What lies ahead? Photographing in Antarctica—"that would be my dream," says Jeff—"the color of the light, the clouds, the water, the icebergs." Second on his "bucket list" is Iceland, with its pristine natural beauty.
No doubt he'll get there someday, and he will bring back images that will dazzle onlookers just as they did this summer in the dining commons at La Sierra.
And just as likely, Jeff will continue to be modest about his work. "I've been doing this for 30 years or more, and I've really only got a few pictures that I think are really outstanding," he says.
Most people would dare to differ, seeing instead in his landscape prints God's handiwork transported through an artist's lens, offering what almost seems to be a window into heaven