Sheena Iyengar, professor and researcher at Columbia Business School and author of the book The Art of Choosing, concludes from her research that the average person will make 1,788,500 conscious decisions of some consequence in their lifetime. 1,788,500. That is about 70 decisions a day in a typical lifespan.
Graduates, you chose La Sierra University. Now you only have 1,788,499 more decisions left to make!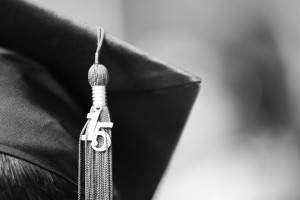 Your class text, found in Joshua 1:9, is one of my favorites. "Have I not commanded you? Be strong and courageous. Do not be afraid, for the Lord your God will be with you wherever you go" (NIV). Remember that when Joshua was told to be strong and courageous, it was because he was about to move God's people, who had been wandering in the wilderness for 40 years, across the Jordan into the promised land. He was about to go forward into God's preferred future, and to do that always takes courage.
My favorite verse in this story, however, is found in chapter 3. As the people of Israel got ready to cross the river, they were told that when the priests moved the ark, representing the presence of the Holy One, they were to follow it. They were no longer in familiar territory. They were entering into the unknown, so they were to follow the Holy One.
Graduates, today, as you enter into new and unknown territory, I want to talk with you about making the rest of the 1,788,499 decisions you'll face in your life. Recognize that you do not have to make them all at once. The decisions of your life will build on each other. As you follow the Holy One, choices will ring true. Your future is not a game. It is not, "Can you figure your life out?" It is a journey into faithfulness.
ALWAYS COLLABORATE WITH GOD'S HEART SHAPING-WORK IN YOU. YOUR HEART WILL BE SHAPED BY THE DECISIONS YOU MAKE.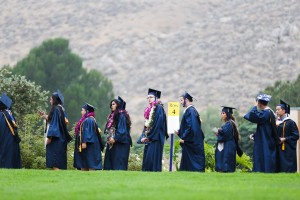 Reggie McNeal, in his classic book A Work of Heart, suggests that God has introduced our story lines, but our responses, our choices, will influence how they will develop. He outlines six forces of life that shape our hearts and require intentional decisions:
Culture—it surrounds us and shapes us, and we are called to shape it as well.
Vocational calling—when we recognize it, we claim our purpose and passion.
Community—made up of our family, friends, our community of faith, it supports us.
Communion—a heart that beats with God's heart has been tuned to the divine frequency. It requires a choice of unhurried time in the presence of the Holy One.
Conflict—Our hearts are molded by conflict and how we choose to respond to it.
The commonplace—We underestimate the importance of the ordinary, where we make the bulk of our life decisions. In the every-day activities of life, the steady decisions we make form our life story.
NOW A FEW RANDOM DECISION-MAKING LESSONS FROM MY OWN LIFE:
Don't be afraid to live boldly and take risks. Peter Drucker, known as the father of modern management, wrote, "People who don't take risks generally make about two big mistakes a year. People who do take risks generally make about two big mistakes a year." Take risks, graduates!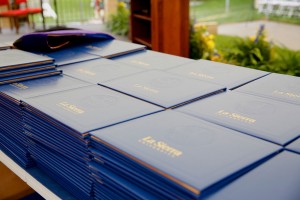 Follow the advice of Eleanor Roosevelt, who said, "Choose to do one thing every day that scares you." You have classmates graduating today who have taken risks and made some bold choices. One is Althea Antoinette Trusty Nee Brown. She spent 17 years as a teacher, and dreamed of becoming a principal. To fulfill that dream, she left her husband and children at home in Jamaica to come to La Sierra. She worked early mornings blowing leaves off the sidewalks and picking up trash while enrolled in graduate classes. Those who know Althea saw that she always has a smile on her face. Today she receives her Master of Arts in education with an emphasis in administration and leadership. Althea took a risk, and today reaps the reward.
Be resilient. Some of you will have your hearts shattered in this journey of life. Allow love and hope to emerge. We will all make some choices we will regret. Choose to learn from those choices. Allow God to redirect you. Choose to have a huge capacity for hope.
Choose integrity—always the boldest choice. You will often be surrounded by others who do not value integrity. Choose it anyway.
And also choose to be kind, and to be generous with your love, time, and resources.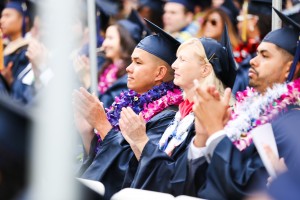 This will require you to decide what success and prosperity look like to you. Many of you will be getting a paycheck soon. Choose carefully how you prioritize the use of your resources. Part of my adventure in life has been choosing to live extremely simply. I live in a tiny condo, have furniture from flea markets, and chose early on to limit my belongings.
Instead, I put resources into two things I value—travel and giving to others generously. I decided as I stepped off the stage at my graduation that one of the things I would value in my life was exploring the world. I vowed to visit a new country every year of my life. In a few weeks I'll be in Estonia, Russia, and Norway. I value experiences over possessions.
Choose to be compassionate. This world can be brutal. Choose to give and serve. Your class president represents many of you who have spent time throughout your education serving compassionately. Alejandra was a student missionary at a clinic in Peru. One night, the students were the only ones at the clinic and they could hear the cries of people outside the gate. They found a pregnant woman in labor and another woman in intense pain. Alejandra delivered a baby that night while in the next room, others prepared for burial the body of the woman who had come in pain and then died. These students made bold, courageous decisions to live compassionately.
See life for the adventure that it is, and remember that God has a sense of humor. I spent most of my ministry in youth ministry. I was never going to be one of the people in a suit who worked at the church headquarters who didn't have a clue what they were doing. Oh, God has a sense of humor! Enjoy the ride.
Choose a strong work ethic, but don't forget that relationships matter more than stuff.
Choose, also, to be a life-long learner and stay curious about your world. Finally, remember that you came to an Adventist school. It has made an impact on you.
So please, stay close. We need you to be a part of our lives, our churches, our schools, our communities, because we will be better with you as a part of us always.
Graduates, a wise Rabbi penned these words:
"Do not be daunted by the enormity
of the world's grief.
Do justly, NOW.
Love Mercy, NOW.
Walk Humbly, NOW.
You are not obligated to complete
the work, But neither are you free
to abandon it."